Book Details
---
Format
Paperback
---
Author
Alison Rattle
---
Publisher
Hot Key Books
---
Publication date
7th March 2013
---
Author's Website
www.alisonrattle.com/2/
---
ISBN
9781471401015
---
Please note:
Adobe Reader is required to view extracts - click below to get the latest version,
Julia Eccleshare's comment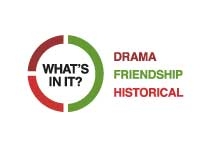 One of our Books of the Year 2013 & March 2013 Debut of the Month - Shortlisted for the Leeds Book Awards 2014, 14-16 age category Two girls from different social classes meet by chance and discover that their lives are unusually intertwined.
Queenie grows up in squalor and poverty; her beautiful mother sells her body to feed her children. Ellen is an only child living unloved but in comfort; Ellen's father is a successful and wealthy doctor but cold-hearted. There seems to be nothing that these two girls could have in common. But unbeknownst to them their lives are already linked and, when Queenie sets out to find herself a better way of life, she and Ellen meet again. Alison Rattle vividly brings to life both the girls and the dark practices around the removal of unwanted babies in nineteenth century London.

NOTE : only suitable for 14+ year olds as some graphic content.
A Piece of Passion from the Editor, Sarah Odedina The Quietness is a novel set in one of the darkest of social times - Victorian London. In the book Alison Rattle explores what it means to be a young woman with little real control over one's fate. Through the lives of two young women, one wealthy and the other poor, we realise that wealth does not offer any greater freedom of choice than poverty. Like Sarah Waters, Alison has a fine-tuned sense of the historical period and the nuances of the time, while bringing the characters to life in a way that will appeal perfectly to today's generation of teen readers. This touching, beautifully researched and vivid story will grip readers who like a gritty and compelling read with a female-centric cast of characters. It is a hugely exciting debut novel.
............................................................
The winners of the Leeds Book Awards are chosen by you! Read the books, talk about them with your friends & teachers and decide which one is your favourite. You can vote in your local library or at www.leedsbookawards.co.uk. Voting closes on Friday 25th April and the winners will be announced on Tuesday 20th May.
See below for the entire shortlist.
...........................................................
In addition to our Lovereading expert opinion for The Quietness a small number of teenagers were lucky enough to be invited to review this title. Here's a taster....'This book is perfect for those who like a thought-provoking, thrilling and exciting book'....
Scroll down to read more reviews...
Synopsis
The Quietness by Alison Rattle

When fifteen-year-old Queenie escapes from the squalid slums of nineteenth-century London, she has no idea about the dangers of the dark world she is about to become embroiled in. Initially thrilled at being taken on as a maid for the seemingly respectable Waters sisters, Queenie comes to realise that something is very wrong with the dozens of strangely silent babies being 'adopted' into the household. Meanwhile, lonely and unloved sixteen-year-old Ellen is delighted when her handsome and charming young cousin Jacob is sent to live with her family. She thinks she has finally found a man to fall in love with and rely on, but when Jacob cruelly betrays her she finds herself once again at the mercy of her cold-hearted father. Soon the girls' lives become irrevocably entwined in this tension-filled drama. The Quietness is a novel of friendship and trust in the darkest of settings.
---------------------------
Leeds Book Awards 2014

9-11 Shortlist

The Battles of Ben Kingdom by Andrew Beasley

The Great Ice-cream Heist by Elen Caldecott

Ways to See a Ghost by Emily Diamand

Osbert the Avenger by Christopher William Hill

The Child's Elephant by Rachel Campbell-Johnston

Wild Boy by Rob Lloyd Jones

11-14 Shortlist

Anthem for Jackson Dawes by Celia Bryce

After Tomorrow by Gillian Cross

How to be Invisible by Tim Lott

The Poison Boy by Fletcher Moss

Blood Tracks by Paula Rawsthorne

Geek Girl by Holly Smale

14-16 Shortlist

The Killing Woods by Lucy Christopher

Infinite Sky by C.J. Flood

Hostage Three by Nick Lake

Siege by Sarah Mussi

Ketchup Clouds by Annabel Pitcher

The Quietness by Alison Rattle
---
Reviews
Rachael Bradley age 14 I liked the back story and it was good and bad the way it was set in old-times - it used odd words such as 'napkins' as opposed to nappies! I thought the way it connected was good. I would read others by this author in the future and recommend it to others. I have already recommended it to my Mum!
Zoe Crook The storyline is so interesting and I learnt a lot as well as enjoy the book. The author's note was fascinating too - it is amazing to think that only one source of inspiration could conjure up a whole book. Click here to read the full review....
Daisy Pennock, 13 I thought it was really interesting how the author wrote two different perspectives of the Victorians ; it really gave me an insight view on what it was really like. Click here to read the full review....
Fabbiha Choudhury This dramatic, and at times dark, novel was a very interesting read and I highly recommend it, particularly to those interested in the Victorian era. Click here to read the full review....
Alice D'Angelo The Quietness was a gripping novel which I couldn't put down; full of twists in the plot, and as the story developed the truth was revealed....Click here to read the full review....

Amy Knight......I don't want to spoil the intricate plot however I can promise that this book is an extremely compelling read and in places I found it impossible to put down! Click here to read the full review....
Delilah Acworth a very well written story...Click here to read the full review....
Navomee Ponnamperuma A extremely captivating book with a very intricately woven plot...Click here to read the full review....
Jenny Duffy, 19 While some of the twists were predictable,it was a compelling read, if much darker than I had expected......Click here to read the full review....
Safiyah Afghan This book is perfect for those who like a thought-provoking, thrilling and exciting book.....Click here to read the full review....
Rachel Bourn, 13 the characters are very believable, and come alive on the page....Click here to read the full review....
Gemma Bees, 16 it is well written and does have a lovely ending....Click here to read the full review....
Amrit Bunet a heartfelt story written in a unique way....Click here to read the full review....
---
About The Author
Alison Rattle grew up in Liverpool, and now lives in a medieval house in Somerset with her three teenage children, her partner - a carpenter - an extremely naughty Jack Russell and a ghost cat. She has co-authored a number of non-fiction titles on subjects as diverse as growing old, mad monarchs, how to boil a flamingo, the history of America and the biography of a nineteenth-century baby killer. She has worked as a fashion designer, a production controller, a painter and decorator, a barmaid, and now owns and runs a vintage tea room.


A Q&A with Alison

What inspires your writing?
The weather, my moods, a photograph, a sentence in a book, memories, emotions.

What has been the most exciting moment of your career so far?
Having Sylvester McCoy (the seventh Dr. Who!) read out a poem of mine in front of an audience at the Nottingham Playhouse when I was about 10, was pretty exciting. But receiving a phone call from my agent Jo, telling me she had landed me a two-book deal with Hot Key Books, has definitely now eclipsed that experience!

How did you first become an author?
By pure luck. A writer friend asked for my help in writing a book he had been commissioned to write but didn't have the time for. It was a book about ghosts.

What are you reading right now?
Julie Myerson Then, Sally Gardner Maggot Moon, Sebastian Barry The Secret Scripture

What was your earliest career aspiration?

To be a writer or fashion designer. I did the designer bit first. It seemed a more obtainable goal somehow.

What advice would you give to budding writers?
As always - read, read, read 'til your eyes pop out. Write about what interests you and moves you, not what you think people want to read. Be happy in your own company and don't ever become a writer for the financial rewards!

What was your favourite childhood book?
As a very young child it was Enid Blyton's Hollow Tree House. I read it over and over again and would have given anything to live in a secret tree house. As a teenager I loved Deborah Moggach's Porky and Aldous Huxley's Brave New World.

Where is your favourite place to write?
I wish my favourite place to write was at home. I would have peace and quiet and an endless supply of free tea. I just can't do it at home though. I get too distracted by dirty floors and piles of ironing. So I take myself off to a well known high street café where I spend a fortune on crappy frappes and muffins and where the hum of voices around me create the perfect writing environment - for me anyway.

How do you read- print, digitally or both?
I totally read print. Can't beat the sound and feel of real pages.

Who do you most admire?
My partner's 90 year old grandmother. She is intellectually vibrant, has very strong opinions, can crack a joke, operate a computer and buys her clothes from TopShop!

Are there any books you wish you had written?
Maria McCann As Meat Loves Salt, John Irving Cider House Rules, James Bradley The Resurrectionist, Markus Zusak The Book Thief. I could go on and on.


To search for more books by Alison Rattle on Lovereading - click here