Book Details
---
Format
Paperback
---
Author
Michael Rosen
---
Publisher
Walker Books Ltd
---
Publication date
2nd June 2016
---
Author's Website
www.michaelrosen.co.uk/
---
ISBN
9781406370775
---
Please note:
Adobe Reader is required to view extracts - click below to get the latest version,
The Lovereading comment
Join in the bear hunt with this fabulous activity book, based on the classic picture book by Michael Rosen and Helen Oxenbury. Little ones will be absorbed for hours with this fun book filled with engaging activities.
*** This Christmas Channel 4 will show an animated TV adaptation of We're Going on a Bear Hunt, to be broadcast on Christmas Eve and Christmas Day.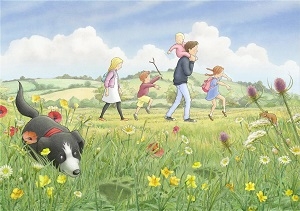 Michael Rosen says: "I am absolutely delighted that Channel 4 has commissioned this animation. Lupus have a great record in this field and I am very excited to be part of the project. Helen Oxenbury's wonderful art work provides a powerful family saga, full of imagined or real trials and these pictures will give a basis for a moving Christmas drama."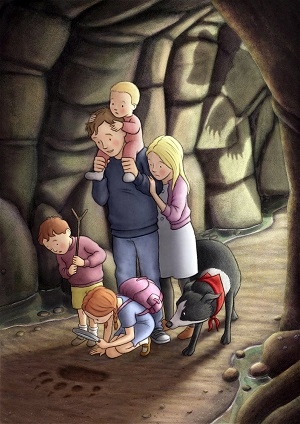 Helen Oxenbury says: "I'm so looking forward to seeing the book brought to life in this way. It's a wonderful opportunity to bring We're Going on a Bear Hunt to even more children and I'm thrilled to be part of it."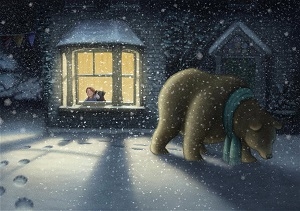 Jay Hunt, Channel 4 Chief Creative Officer, says: "Going on a Bear Hunt is a magical book that will be brought alive for a whole new audience by Lupus Films. I can't wait."
Synopsis
We're Going on a Bear Hunt by Michael Rosen

For over 25 years, readers have chanted along with this award-winning favourite. Join in the fun with this jam-packed book full of puzzles, colouring and craft activities! Little ones will be absorbed for hours with this book filled with engaging activities. Mazes, picture puzzles, baking, craft and more make this a perfect book to take on holiday or fill rainy days. You can even make binoculars and build your own bear cave! Helen Oxenbury's beautiful illustrations are as enchanting here as in the beloved original, and Michael Rosen's brilliantly rhythmic words provide the inspiration for every exciting activity.
You might also like We're Going on a Bear Hunt Colouring Book!
There is a new website celebrating 25 years Bear Hunting - visit www.jointhebearhunt.com for everything a bear hunter could need including activities, videos, competitions and tour dates.
The book has sold in nearly 30 countries and in over 20 languages.
---
About The Author
Michael Rosen is a hugely bestselling author of picture books and poetry. Michael frequently appears on radio and gives talks and lectures on children's literature. Michael was the Children's Laureate for 2007–2009 and the winner of the Eleanor Farjeon Award. He lives in London.
Join Michael Rosen as he attempts to break the GUINNESS WORLD RECORDS™ title for the Largest reading lesson at 10am on Tues. 15 July. Watch below.
Michael Rosen on Michael Rosen:

I grew up in the London suburb of Pinner, a place my parents often wondered about. How had we landed there? My parents were teachers, politically committed (socialists), and great storytellers and readers. I was lucky to have found them.

Most of my adult life, I've been a freelance writer, teacher (of sorts), journalist, performer and broadcaster. I visit schools doing my one-man show, and support Arsenal Football Club.

I have often written about my life and family, but I also write occasional fantasy (usually based in a real place) and non-fiction.
Things you didn't know about Michael Rosen
I wear size 12 shoes.
I like speaking French.
I'm an atheist.
I love mobile phones.
I love houmous.
I can't live without green warty pickled gherkins.
I hate racism.
My father was American.
I can slide my top lip one way and my bottom lip the other.
I can play the harmonica.
Photo credit Laurence Cendroicz
To search for more books by Michael Rosen on Lovereading - click here