Book Details
---
Format
Paperback
---
Author
Roald Dahl
---
Publisher
Puffin an imprint of Penguin Books Ltd
---
Publication date
11th February 2016
---
Author's Website
www.roalddahl.com/
---
ISBN
9780141365466
---
Please note:
Adobe Reader is required to view extracts - click below to get the latest version,
The Lovereading comment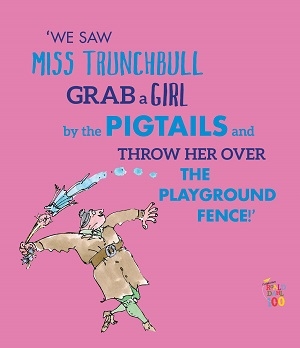 Matilda - Roald Dahl's best-loved story - though now over 25 years old, is as fresh, funny and poignant as when it was first published in 1988.
The story of a child genius, it has been adapted into film and, most recently, a hugely successful, award-winning musical with music and lyrics by Tim Minchin.
Synopsis
Matilda by Roald Dahl

Phizz-whizzing new branding for the world's No.1 storyteller, Roald Dahl! Exciting, bold and instantly recognisable with Quentin Blake's inimitable artwork.
Matilda Wormwood's father thinks she's a little scab. Matilda's mother spends all afternoon playing bingo. And Matilda's headmistress Miss Trunchbull? Well, she's the worst of all. She is a big bully, who thinks all her pupils are rotten and locks them in the dreaded Chokey. As for Matilda, she's an extraordinary little girl with a magical mind - and now she's had enough. So all these grown-ups had better watch out, because Matilda is going to teach them a lesson they'll never forget.
Now you can listen to Matlida and other Roald Dahl audio books read by some very famous voices, including Kate Winslet, David Walliams and Steven Fry - plus there are added squelchy sound effects from Pinewood Studios!
Look out for new Roald Dahl apps in the App store and Google Play- including the disgusting Twit or Miss! inspired by the revolting Twits.
And visit www.roalddahl.com for games and quizzes, special events, the Roald Dahl museum, new book editions and more about all your favourite Roald Dahl creations.
---
Reviews
A true genius...Roald Dahl is my hero David Walliams
---
About The Author
Roald Dahl was born in Wales of Norwegian parents – the child of a second marriage. His father and elder sister died when Roald was just three. His mother was left to raise two stepchildren and her own four children. Roald was her only son.
He had an unhappy time at school - at Llandaff Cathedral School, at St Peter's prep school in Weston-super-Mare and then at Repton in Derbyshire.

Dahl's unhappy time at school was to influence his writing greatly. He once said that what distinguished him from most other children's writers was "this business of remembering what it was like to be young". Roald's childhood and schooldays are the subject of his autobiography Boy.
Since Roald Dahl's death, his books have more than maintained their popularity. Total sales of the UK editions are around 37 million, with more than 1 million copies sold every year! Sales have grown particularly strongly in America where Dahl books are now achieving the bestselling status that curiously proved elusive during the author's lifetime.
To search for more books by Roald Dahl on Lovereading - click here