Julia Eccleshare's comment
Winner of the 1937 CILIP Carnegie Medal The seven Ruggles children grow up in a household with little money but a lot of action! There's Kate who spoils her expensive and brand new school uniform on a trip to the seaside, the twins Jim and John who's adventures so impress the other members of the Gang of the Black Hand, Jo who sneaks into a cinema on his own and the baby William who wins first prize in the baby show. Although pitied by the neighbours for their poverty, the Ruggles children wouldn't have their life any other way!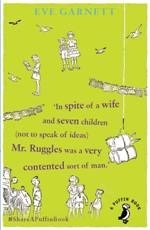 A message from Jacqueline Wilson.
When I re-read this down-to-earth, charming adventure that's full of humour I felt more than a little sad for although the 1930s was a decade of hardship for most people in England, this family of 7 children had immense freedom and a fun-filled action-packed time despite being very poor; in fact, almost certainly a much more fun and enjoyable time than children of today. It was a time of innocence and trust but nowadays we deny our children freedom and protect our children because sadly that trust in other people and innocence has gone. This is a wonderful evocation of a now vanished world that all children should read and will thoroughly enjoy, not just because of the great adventures but also the heart-warming characters. It has been beautifully published by Puffin with original illustrations. A timeless classic that may be from a different era but it's a book to cherish. (7-9)
Puffin Fact! The Family from One End Street beat The Hobbit to win the Carnegie Medal in 1937. Download more Puffin Facts here!
_____________
Dear readers, dreamers and adventurers,
Ever wanted a friend who could take you to magical realms, talk to animals or help you survive a shipwreck? Well, you'll find them all in the PUFFIN BOOK collection.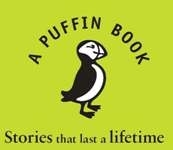 A PUFFIN BOOK will stay with you forever. Maybe you'll read it again and again, or perhaps years from now you'll suddenly remember the moment it made you laugh or cry or simply see things differently. Adventurers big and small, rebels out to change their world, even a mouse with a dream and a spider who can spell - these are the characters who make stories that last a lifetime. Whether you love animal tales, war stories or want to know what it was like growing up in a different time and place, the A PUFFIN BOOK collection has a story for you - you just need to decide where you want to go next...
We want to know which is your favourite. Tell us or tweet a photo of your old beloved copy - and we might just send you a new A PUFFIN BOOK so you can pass the story on.
Love - PUFFIN @puffinbooks #shareapuffinbook

Synopsis
The Family from One End Street by Eve Garnett

This is the story of everyday life in the big, happy Ruggles family who live in the small town of Otwell. Father is a dustman and Mother a washerwoman. Then there's all the children - practical Lily Rose, clever Kate, mischievous twins James and John, followed by Jo, who loves films, little Peg and finally baby William. It is a truly classic book awarded the Carnegie Medal as the best children's book of 1937.
Visit our Puffin Category to see the full range of titles
---
About The Author
Eve Garnett (1900-1991) was born in Worcestershire and educated at a convent in Devon. She moved to London in the 1920s to study art at Chelsea and later at the Royal Academy where she won prizes and a Silver Medal for her landscape painting. Eve came from a middle class family and, when asked to illustrate a book called The London Child, she was shocked to see the terrible living conditions of London's poor. She was determined to bring attention to this and so wrote her most famous book The Family from One End Street, based on her experiences in London. Many publishers turned it down considering it unsuitable for children – most successful books for children at that time involved middle-class families and/or talking animals (Winnie the Pooh, Swallows and Amazons, etc.).

The book tells of the Ruggles family – Mr Ruggles was a dustman, Mrs Ruggles took in washing and they had seven children – and of their life at Number 1, One End Street. It was a huge success and won the Carnegie Medal as the best book of the year – one of the titles it beat was Tolkien's The Hobbit. Eve Garnett described The Family from One End Street as "a shot in the battle against slums". It was translated into many languages, including Japanese – but never Russian as the author's politics would not allow it.

Not everyone agreed with the praise heaped on this book; some found it patronising and unacceptable – the book continues to be read and the arguments about it go on.

Eve Garnett lived in Lewes, Sussex for the last half of her life. She published more books but her greatest interest was in painting and she had several London exhibitions.
To search for more books by Eve Garnett on Lovereading - click here